Pediatric Dental Team – Canton, GA
Fun Appointments:

Guaranteed
The professionals that make up our team have years of dental experience, and they go above and beyond to make our dental office a warm and friendly place that children look forward to visiting. Their goal is to treat you and your child better than family while delivering stellar service so you both leave the dental office with smiles on your faces. Read on below to learn more about our fantastic team!
Kelli, Front Office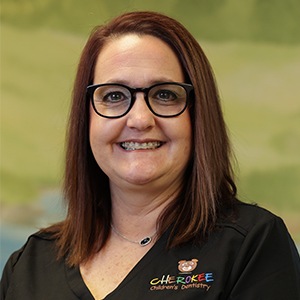 Kelli has been an important part of our dental office for over five years now. She studied at Future Dental Assistants of Atlanta and also has her teaching certificate in early childhood education! What she enjoys most about her role is getting to work closely with children and their parents.
Kelli hails from Warner Robins and currently lives in the Canton area with her husband Rodney. They have four sons who are either starting careers or finishing up their education. She enjoys spending her free time hanging out with family and friends at their lake property at Lake Weiss in Alabama or simply reading a good book!
Moira, Front Office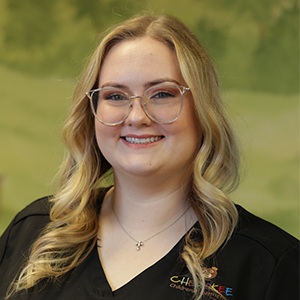 Moira is from the Marietta area and has been a big part of our dental family for nearly five years. She's amazing at creating deep connections with both our patients and coworkers. Everyone feels just like family!
Moira's family consists of her older sister, brother-in-law, niece, nephew, dog, cat, and her parents. Outside of working hours, some of her favorite hobbies include baking, painting, cross-stitching, shopping, singing, traveling. She also LOVES sloths – be sure to ask her for a random fact about them.
Dawn, Front Office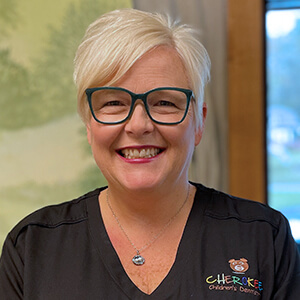 Born and raised in Austell, GA, Dawn started her career in the dental field by attending Kennesaw State College. She's gained much of her experience through on-the-job training and has been an excellent part of the team. Her favorite part about her job is seeing how excited the children are to visit the dentist. She also appreciates the people she works with, as it feels like a family, and is thankful for the connections she's built so far.
When she isn't at the office, Dawn is spending quality time with her wonderful husband. They have two wonderful children and enjoy hanging out with their two dogs and two cats. Occasionally, she and her husband go camping in their RV. One thing you may not know about her: her father named her after Tanya Tucker's song "Delta Dawn."
Laura, Dental Hygienist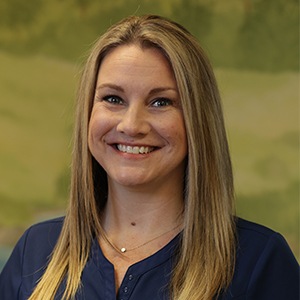 Laura is originally from Canton and has been working in dentistry for over two full decades. In fact, she's been a member of our dental office for 12+ years! She loves meeting new families that join our dental family and helping their kids feel comfortable in the treatment chair.
At home, Laura and her husband Chad have a daughter named Caroline, two sons named Jackson and Hudson, a dog named Murphy, and a cat named Maisie. Some of her favorite ways to pass the time include reading, baking yummy treats for the whole family, traveling to new places, and exploring little towns/shops all throughout the North Georgia and North Carolina mountains. She also LOVES organizing!
Cheree, Dental Hygienist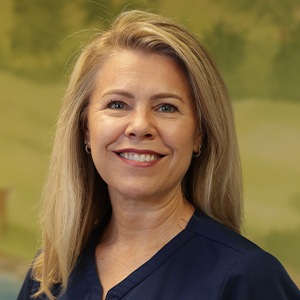 Cheree's career in the dental field spans over 20 years so far! Originally from Oro Grande, CA, she studied dental hygiene in California. Today, she feels very grateful to interact with such wonderful children and great coworkers.
At home, Cheree is happily married with two awesome teen boys! Some of her favorite hobbies include decorating, organizing, tackling various home improvement/DIY projects, and going for long drives on beautiful country roads.
Stephanie, Dental Hygienist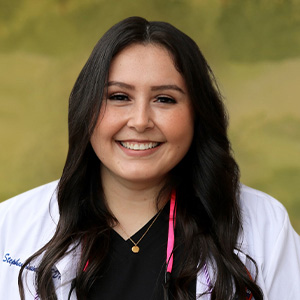 Stephanie has more than six years of experience in the world of dentistry, and each one of those years has been right here with our team! Some of her favorite aspects of her job are educating patients on how to care for their teeth and getting anxious kids to love coming to the dentist. Since attending Georgia Highlands College, she has continued taking CE classes, earned her CPR certification, and become a Mental Health Aider.
Away from the office, you'll most likely find Stephanie serving at her church, reading a book on the beach, working out, or watching a good crime documentary. Here's something you may not know about her: she can speak two languages!
Josie, Clinical Coordinator & Lead Assistant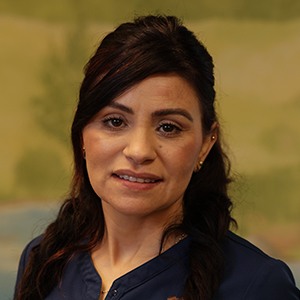 Originally from the Dominican Republic, Josie started her career in pediatric dentistry in 1995 at Jamaica Hospital in Queens, New York. She relocated to Georgia in 2005. Josie has spent her entire dental assistant career specializing in pediatrics and is recognized as an expanded duties assistant by the Georgia Board of Dentistry. She is married and is the proud mother of a son, Alan. Away from the dental office, Josie enjoys spending time with her family and friends.
Madison, Dental Assistant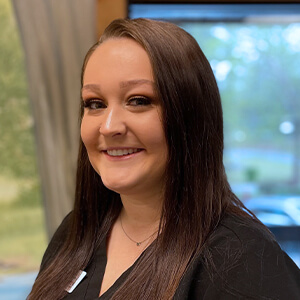 A Canton native, Madison attended the Dental Assisting School of Georgia for her education. One of her favorite parts of being an assistant is getting to see our special patients with happy, healthy smiles that look so confident!
Madson is close with her parents and brother. She also loves cuddling her two dogs Sadie and Maggie. Away from work, her top priority is spending LOTS of quality time on the lake, pool, or beach. It's not a surprise that summer is her favorite season of the year by far.
Tazeh, Dental Assistant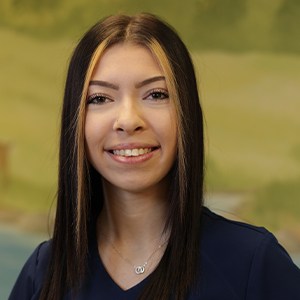 As one of our assistants, Tazeh always looks forward to helping kids chase away the "sugar bugs" and overcome their fear of the dentist's office! Seeing their big smiles is always a wonderful moment. She studied at the Atlanta Academy of Dental Assisting.
A Marietta native, Tazeh is extremely close with her parents and her little sister. She also has a boyfriend named Michael and two little fur babies named Kooper and Kaia who are Boxers. Some of her favorite hobbies in her spare time include painting, scrapbooking, riding dirt bikes, and wakeboarding in the summer – but only in smaller bodies of water, as she's terrified of the ocean!
Natasha, Dental Assistant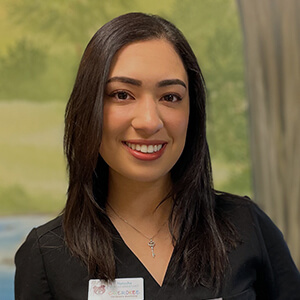 A native of Marietta, Natasha studied at Kennesaw State University where she earned her bachelor's in Biology pre-med degree. She was also working with and shadowing Dr. Miles Mazzawi as a trainee dental assistant. One of the best parts of her job is being able to meet different patients as well as learn new things from every team member and dentist.
At home, Natasha enjoys drawing self-portraits and webtoon comics, working out at the gym, and spending weekends with friends or family members. She's extremely proud of her family, as her brother is attending Kennesaw State University, her mother is a Graphic Designer specialist at ABC Breast Care, and her father is a Senior operating analyst at Emory University. An interesting thing about her is that she can also speak Spanish and Japanese!
Stephanie, Front Office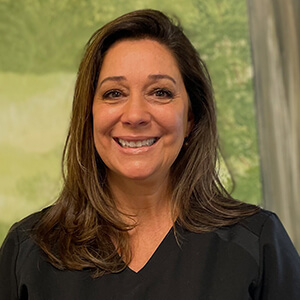 Stephanie was born and raised in Columbus, Ohio. She later went on to study at Ohio University before moving to Canton, GA, and joining our dental family. Her favorite thing about working in the front office is being able to see all the kids excited about visiting their dentist. She also appreciates the exceptional team she works with and the amazing doctors who have even treated her kids for over a decade!
At home, Stephanie enjoys spending time with her loving husband, their two children, and two rowdy golden retrievers. Other than watching movies and boating together, she also loves interior decorating as well as being part of her church. She feels fulfilled when spending time with others and helping people in the community.