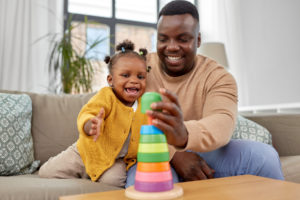 Nobody hands you a how-to book on taking care of the little things in your child's life, like scheduling their first dental visit and helping them feel comfortable about the idea of stepping into a dentist's office. When children have an exciting and positive experience with the dentist, they're more likely to keep on top of brushing their teeth and receiving routine preventive care throughout their lives. Read on for three easy steps to help prepare you and your child for their first dental checkup.
Step 1: Scheduling the Appointment
Finding a good children's dentist in your area can be a struggle, but some good traits to look for include experience working with children, specialized training (which could look like them being a board-certified pediatric dentist), and having a fun and welcoming office that your little one will feel comfortable in.
Once you determine the pediatric dentist that's right for you and your child, you'll want to schedule an appointment for them. It's best to plan the visit for a time when they'll be in a good mood. For many children, this could be once they've eaten and after they've napped. Be sure to fill out any forms in advance to minimize the time you'll be waiting in the office, and make a call to your dental insurance or the pediatric dental office to ensure that any insurance details are squared away.
Step 2: Getting Your Child Comfortable with Visiting the Dentist
New experiences can be scary and daunting, but if you take the time to prepare your child and make sure the visit doesn't come as a surprise, it could make the experience more positive. Be sure to explain to your little one what will happen at the appointment. A great way to do this is by pretending that you're the patient and they're the dentist, and they get to count your teeth and give you a cleaning. There are also fun books and online activities available to help you prepare them!
Step 3: Making the Appointment Fun & a Positive Experience
When children have good impressions of their dentist's office there's a good chance that they'll look forward to coming back. One bad experience can be hard to overcome, which is why choosing a dental office that has specially trained pediatric dentists who know how to create positive experiences with children is an absolute must for many parents. Some kiddos may benefit from having something familiar around, like their favorite stuffed animal or book, to make the dental office a little less intimidating.
No two children are the same, and ultimately, as a parent, you know what's best for your little one. By taking the time to prepare and create a fun first dental visit for your child, you'll be able to help them build a positive relationship with their oral health and hygiene.
About the Practice
At Cherokee Children's Dentistry, we have a team of wonderful, board-certified pediatric dentists to choose from. Each of our pediatric dentists are specially trained to provide positive and fun dental experiences for children of all ages, from infants to teenagers. They're also happy to meet accessibility needs for children who have cognitive, behavioral, sensory, and physical needs to ensure they receive quality dentistry in a comfortable environment. For questions or to schedule an appointment, visit our website or call 770-479-1717.